Finally, a more affordable dental crown! Best of all, it's done in only one appointment.
Dental crowns protect weak teeth from fracturing, and restore badly fractured or heavily filled teeth. With the One Visit Crown, you can have your crown prepped and fitted in the same visit.
Saves time
At your consultation your dentist will take an impression of your unprepped tooth and send to Rhondium labs and we will make you a crown within 10 working days.
Affordable
This technology makes your treatment affordable. As One Visit Crowns are more efficient, the time and money saved enables us to pass the savings on to you.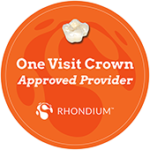 Natural look and feel
The One Visit Crown looks like your natural teeth, so you can't tell the difference.
Less drilling
The One Visit Crown is a conservative option, designed to preserve your remaining tooth structure. This means less drilling than conventional crowns.
Learn more at www.onevisitdentalcrown.com