Expert Dentures & Implants Melbourne
Experience Our Professional and Caring Denture and Dental Implants Services in 3 Convenient Locations Across Melbourne.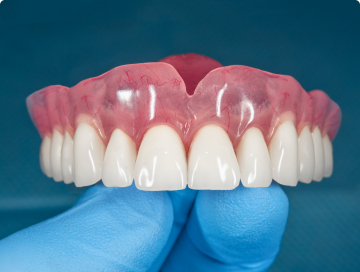 Are you struggling with missing teeth, feeling self-conscious about your smile, or experiencing difficulty with chewing and speaking?
At Smile Place, we specialise in providing tailored solutions such as dentures and implants to address these concerns. Our custom-designed dentures restore the appearance of natural teeth, enhancing facial aesthetics and improving functionality.
For a more permanent option, dental implants offer a natural look, feel, and function, integrating seamlessly into your smile.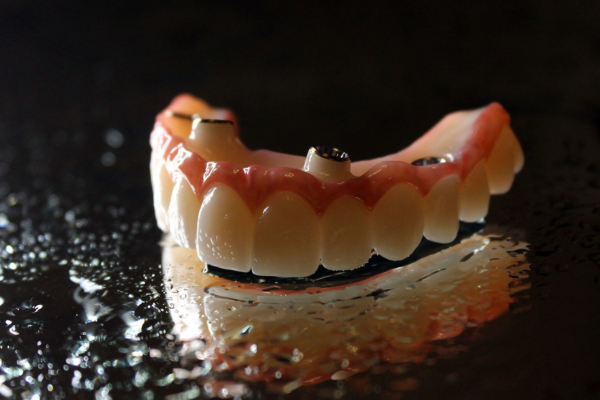 What are Dentures?
Dentures have gotten a bad rap for a long time, but fortunately, for those who've lost their teeth, times have changed.
These days, dentures are better fitting, more natural-looking, and more comfortable than ever before so you won't have to worry about looking anything less than confident.
Dentures are designed to replace missing teeth and restore function with a natural-looking and long lasting solution. They offer an effective alternative to patients that are not suitable for dental implants or porcelain veneers.
When Are Dentures & Implants Needed?
Dentures and implants are suitable for:
Individuals with missing teeth
Those who experience difficulty in chewing and speaking due to tooth loss
Individuals seeking a solution for restoring their smile and facial aesthetics
People looking for a more permanent alternative to removable dentures
Those with a desire to improve their oral health and overall well-being
Individuals with deteriorating or damaged teeth that require replacement
People who want to regain their confidence and improve their quality of life with a functional and natural-looking smile
Types of Dentures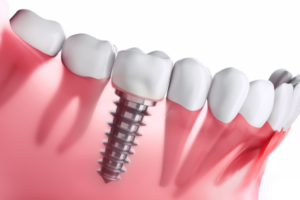 Partial: For those who have only lost some of their teeth. They work well because remaining teeth can be used as an anchor. By binding dentures with real teeth, it actually keeps the real teeth from sliding into empty spaces.
Complete: for those of you who are missing all of your teeth. Conventional dentures are permanent and meant to last for a long time. Immediate dentures are worn for a few months after teeth fall out.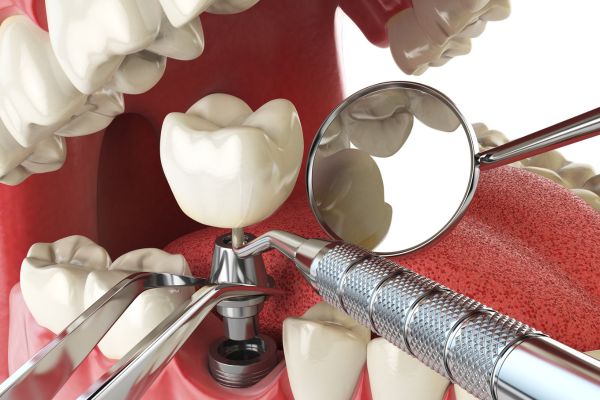 Dental Implants
Dental implants are artificial tooth roots that are surgically placed into the jawbone to support replacement teeth. They serve as a sturdy foundation for replacement teeth, such as crowns or bridges, providing a permanent and natural-looking solution for missing teeth.
Benefits of Dental Implants
- Permanent tooth replacement solution
- Improved appearance and natural-looking results
- Restored ability to eat and speak comfortably
- Enhanced oral health and preservation of adjacent teeth
- Improved self-confidence and restored smile
Locations
Come see our dentists at:
Dentures or Implants- Which Is Right For You?
Choosing between dental implants and dentures depends on various factors, including:
Jawbone health and density: Dental implants require sufficient bone support, whereas dentures are more suitable for individuals with lower bone density.
Lifestyle and preferences: Consider your lifestyle, comfort, and personal preference for a removable or permanent tooth replacement solution.
Aesthetics and natural feel: Dental implants closely resemble natural teeth in appearance and function, while dentures may have a more artificial look.
Cost considerations: Dental implants generally have a higher upfront cost, but they offer long-term value due to their durability. Dentures may be a more cost-effective solution initially but may require ongoing maintenance and potential replacements.
Ultimately, it's best to consult with a dentist or oral surgeon who can evaluate your oral health, discuss your preferences and needs, and provide personalised recommendations. They will guide you in making an informed decision based on your specific situation, helping you choose the option that provides optimal function, aesthetics, and long-term satisfaction.
FAQS
What are dentures?
Dentures are removable prosthetic devices that replace missing teeth and surrounding tissues. They are designed to restore oral functionality and improve the appearance of your smile.
How long does it take to get dentures?
The process of getting dentures typically involves several appointments over a few weeks. The exact timeline can vary depending on your unique dental situation and the type of dentures you need.
Are dentures comfortable to wear?
Modern dentures are designed with comfort in mind. However, it may take some time to get used to wearing them. Your dentist will ensure that your dentures fit properly and provide instructions for adjusting and caring for them.
What are dental implants?
Dental implants are artificial tooth roots that are surgically placed into the jawbone. They serve as a sturdy foundation for replacement teeth, such as crowns or bridges, providing a permanent and natural-looking solution for missing teeth.
Are dental implants suitable for everyone?
In general, dental implants are suitable for most individuals who have good oral health and sufficient bone density in the jaw. However, certain factors such as overall health, tobacco use, and medications may affect eligibility. A thorough examination by a dentist or oral surgeon is necessary to determine if dental implants are the right option for you.
How long do dental implants last?
Dental implants are designed to be a long-term solution for tooth replacement. With proper oral hygiene and regular dental check-ups, dental implants can last for many years, often decades, providing a durable and reliable solution for missing teeth