Dental Veneers - Smile Place Melb
Achieve the smile you've always wanted with dental veneers at Smile Place Dentistry.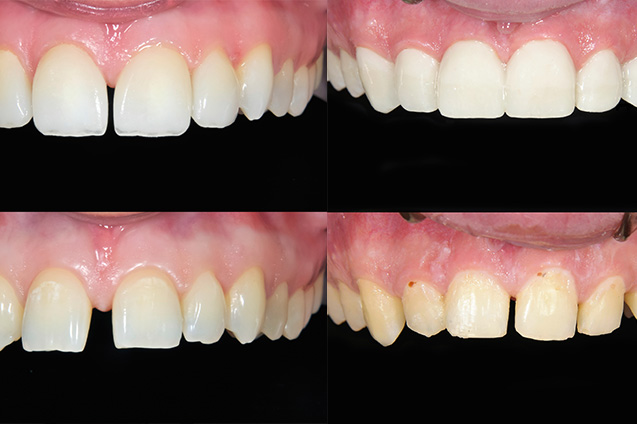 Tired of hiding your smile due to stained, chipped, or misshapen teeth? Discover the transformative power of dental veneers.
Our custom-made veneers are designed to enhance the appearance of your teeth, providing a natural-looking, flawless smile addressing common concerns such as discolouration, chips, cracks, or misalignment.
Experience the confidence of a natural-looking, radiant smile with our top-quality dental veneers.
Who Are Porcelain Veneers Treatment For?
Porcelain veneers are used to help individuals who:
Desire a brighter, more radiant smile that addresses discolouration or stains.
Seek to restore the appearance of chipped or broken teeth for a seamless and natural look.
Want to improve the alignment of their teeth without the need for extensive orthodontic treatment.
Wish to close gaps or spaces between their teeth, achieving a more harmonious smile.
Have worn-down teeth and want to rejuvenate their shape, size, and overall appearance.
Are looking for an instant smile makeover that provides a dramatic transformation.
If you are troubled by aesthetic dental issues like stained, chipped, or mal-aligned teeth, porcelain veneers could potentially be a suitable solution for you.
Nevertheless, it is crucial to undergo an extensive consultation with your dentist to ascertain if veneers are indeed the best fit for your needs. Your dentist will assess multiple factors including the current state of your teeth, your general oral health, and your comprehensive dental objectives before proposing porcelain veneers as a viable treatment alternative.
What Are Dental Porcelain Veneers?
Dental veneers are thin, custom-made shells that are bonded to the front surface of teeth to improve their appearance, covering imperfections and creating a natural-looking, beautiful smile.
Technicians create veneers from layers and layers of fine dental porcelain. The final product is about as thick as a fingernail. It is then bonded to a prepared tooth surface. To guarantee natural results and a solid bond, a small amount of tooth enamel is removed prior to veneer placement.
With just a few of visits, veneers can:
Whiten your teeth: Do you have pesky coffee stains? This will help conceal them.
Establish consistent tooth shape: Veneers will even the length of your teeth.
Mask chips and breaks: Veneers are the perfect solution to mask a chipped tooth.
Improve your smile: After just a couple of visits, your smile will look better than ever.
When you invest in a new smile, you'll notice benefits that you never thought possible. If you've been considering improving your smile come see us at Smile Place Dental.
Dental Veneer Procedure
Dental veneer procedure generally requires at least 2 to 3 visits:
Visit 1: Consultation and Oral Examination: Diagnosis and treatment plan are the first step involving discussion with our friendly dentists. During this appointment our dentists will examine your teeth to make sure dental veneers are appropriate for you and discuss the working procedures, time-frame, limitation, expected results of the final works, and costs.
Visit 2: Teeth preparation: To prepare a tooth, our dentists at Smile Place Dental will remove part of the tooth's enamel surface. Before trimming off the enamel, you and your dentist will decide on the need for a local anaesthetic.
Then, our dentist will make a model or impression of your tooth. This model is sent out to a dental laboratory, which in turn constructs your veneer. It usually takes 4-6 days for your dentist to receive the veneers back from the laboratory. In this visit, a temporary dental veneer will be made. That way, you will have no problems smiling and eating while waiting for the permanent veneers.
Visit 3: Veneer Placement: Our dentists will apply a special cement to the veneer and the veneer is then placed on your tooth. Then, our dentist will remove any excess cement, evaluating your bite and make adjustments in the veneer if necessary. In some cases, our dentist will ask a follow-up visit for post check up.
Locations
Come see our dentists at:
Benefits Of Porcelain Dental Veneers
Porcelain veneers closely mimic the appearance of your natural teeth, contributing to a life-like smile
They offer customisation in terms of shape and colour, allowing patients to influence their aesthetic outcome
Porcelain veneers are more durable and have superior stain resistance, providing a consistently bright smile
In contrast to composite resin, the complete process for porcelain veneers may require up to three dental visits but their longevity means you can smile confidently without concerns.
Porcelain veneers are particularly suitable for patients with intensely discoloured or stained teeth, misshapen or short front teeth, or those seeking cosmetic improvements to their smile.
Why choose Smile Place?
Choosing a dental provider is a significant decision for your health, comfort, and smile aesthetics. At Smile Place Dental, we have solid reasons to be your top choice:
1. Experience and Expertise: Our team of skilled dentists and hygienists have decades of combined experience across all facets of dentistry. Our practitioners are dedicated to staying abreast of the latest research and technology, ensuring you receive cutting-edge treatments that uphold the highest standards of dental care.
2. Comprehensive Dental Care: At Smile Place Dental, we offer a broad range of dental services, from preventive care and routine checkups to advanced procedures like dental implants and cosmetic dentistry. This holistic approach means you can trust us to cater to all your dental needs under one roof.
3. Patient-Centered Approach: We understand that every patient is unique, and so are their dental needs. That's why we create personalized treatment plans that respect your preferences and lifestyle while aiming for optimal oral health and a radiant smile.
4. State-of-the-Art Technology: We invest in advanced dental technology to provide safe, efficient, and comfortable treatment experiences. Whether it's digital x-rays for lower radiation exposure or intraoral scanners for precise impressions, we leverage the best in dental technology for superior results.
5. Comfortable and Relaxing Environment: Dental anxiety is real, and we take it seriously. Our clinic is designed to evoke a serene and calming ambiance, helping you relax throughout your visit. Our caring staff are trained to provide gentle care, taking the time to explain procedures and answer any questions you might have.
6. Affordability and Transparency: We are committed to delivering quality dental care that's financially accessible. We offer various payment options, accept most insurance plans, and provide transparent cost estimates before beginning any treatment.
At Smile Place Dental, we make it our mission to ensure that every visit enhances not just your oral health, but also your overall well-being. With us, you will feel heard, cared for, and confident that you're getting the best dental care. Choose Smile Place Dental – where your smile is our passion.
FAQS
What are dental veneers?
Dental veneers are thin, custom-made shells crafted from porcelain or composite materials. They are bonded to the front surface of teeth to improve their appearance, covering imperfections such as stains, chips, or misalignment, and creating a natural-looking, flawless smile.
Are dental veneers permanent?
While dental veneers are considered a long-lasting solution, they are not entirely permanent. With proper care and regular dental check-ups, porcelain veneers can last around 10-15 years, and composite veneers generally have a lifespan of 5-7 years before needing replacement.
How are dental veneers applied?
The dental veneer procedure typically involves three steps. First, the dentist will prepare the teeth by removing a small amount of enamel to accommodate the veneers. Next, impressions of the teeth are taken to create custom veneers. Finally, the veneers are bonded to the teeth using dental cement, resulting in a transformed and natural-looking smile.
Do dental veneers require special care?
Dental veneers do not require special care, but it's essential to maintain good oral hygiene practices. Regular brushing, flossing, and dental check-ups are necessary to ensure the longevity of your veneers. Avoid using your teeth for tasks like opening packages or biting hard objects, and refrain from biting on very hard or sticky foods.
Can anyone get dental veneers?
Dental veneers are suitable for many individuals with cosmetic dental concerns. However, a thorough dental examination is necessary to determine if you are a suitable candidate. Generally, patients with good oral health, sufficient tooth enamel, and realistic expectations for the outcome can benefit from dental veneers.